Make the most of the Winter to improve your golf
Winter Practice & Coaching
Whilst we may all feel like hibernating during this inclement spell of weather, please DON'T. It is actually the best time to make necessary swing changes that, if practiced, should be natural and ingrained in your 'feel system' prior to the season starting.
Whether you're currently an Academy Member or thinking about learning to play, we have superb practice facilities which shelter us from all but the very worst that Mother Nature can throw at us, and your tutor will demonstrate exercises that you can also do at home, so that you look like 'poetry in motion' when sunnier climes arrive.
So, come on everyone, join us for group classes, take private tuition, use the par 3 course, practice on the range and exercise at home. It couldn't be easier!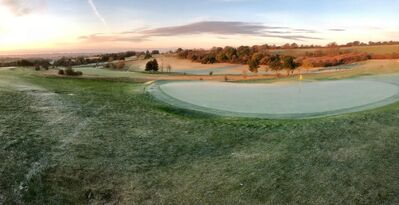 Equipment
This is also the time of year to ensure your golfing equipment is ready and adequate for the playing season ahead. Check your grips: we notice, when teaching, so many pupils grips are either worn or shiny. The rubber grip is the only contact we have with the club and as the club can travel up to 100 miles an hour we better be able to hold onto to it. If you need new grips they start at just £5 each, fitted (hardly a King's ransom).
Also, check your studs. You should have metal spikes at this time with the slopes being potentially slippery. Many accidents derive from golfers losing their footing.
Once all the above is adhered to, you just need the motivation to play the best golf you can, make new friends and just have fun
Gary Player once said;
"The harder I practice the luckier I get."
Mind you he also quoted;
"Golf is a puzzle without an answer. I've played the game for 40 years and I still haven't the slightest idea how to play."
Oh dear, some hope for us!
All the best
Michael Henning,
Head Pro