Getting into Golf (Week3) - by Kerry Watkins
In the lead up to Christmas, the weeks really do start to fly by and already we're on our third golf lesson.
I haven't had any time to practice during the week and so I'm not surprised that the coaches are still correcting my swing and grip but I must admit, it's starting to become a little easier this week.
Today we left the safe confines of the driving range and learned pitching. Talk about moving the goalposts! Any confidence I had about the little part of golf that I felt I was (ever so slowly) perfecting was now gone as we had to learn a whole different swing.
However, in high spirits, we learned how to swing more gently with a different club and tried to find just the right amount of swing to get the ball somewhere near the hole; a very different skill to the full swing and actually very fun. Despite the cold, I found I could focus and it was quite exciting to have this little taster into a new part of the game at this stage.
What I found most tricky was hitting the ball off the grass rather than off the tee in the driving range. There were so many divots taken from the grass, I started to feel a little bad for the greenkeeper!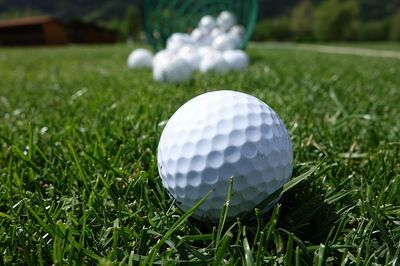 I didn't find it easy to hit the ball correctly, but what really helped was the Pro's advice on practice swings. Taking several practice swings until I was just brushing the grass before hitting the ball tended to work and I was pleased to see some good shots land a million miles away from the flag. Although to be fair, I'm sure there's a certain amount of luck involved too at this stage.
Mike and Harry's patience is amazing and they are so committed to ensuring we are learning according to best practice and in a way that means we won't pick up any bad habits that become difficult to break. For this, I am very grateful as I think I might be playing more golf in the future!